Programme Overview
This programme is launched in collaboration with Mu Sigma, a global leader in Decision Sciences, Big Data and Analytics. Decision Science is an emerging and increasingly essential multi-disciplinary, problem solving approach adopted by institutions worldwide. It involves an interdisciplinary application of business, mathematics, technology, design thinking and behavioural sciences.
The uniqueness of the B.Sc. – Decision Sciences programme at RVU is an apprenticeship based, interdisciplinary programme. Here, students learn through practical application of concepts from liberal arts, management and decision science on real world high-impact problems in the industry. Leaders of the present and future require a holistic education, one that teaches the foundations of problem-solving, the art of learning, effective communication, and professional ethics. This unique programme provides such a holistic education to students, preparing them to be leaders in an increasingly globalized world.
Why B.Sc. (Hons.) Decision Sciences at RV University?
Assured placement at Mu Sigma upon successful completion of the B.Sc. (Hons.) programme

An interdisciplinary curriculum with Math, Business and Design Thinking

Rewarding career progression leading to leadership-ready roles

Apprenticeship experience at Mu Sigma through the 4 years

Hands-on experience in solving real world problems of Fortune 500 organizations
Apprenticing at Mu Sigma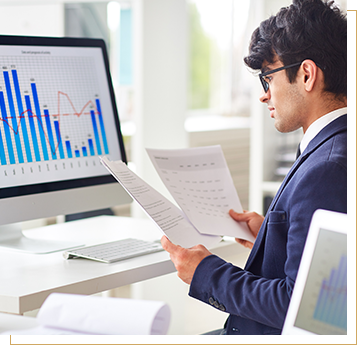 You will receive a contractual agreement with Mu Sigma at the end of the first year of B.Sc. (Hons.) Decision Science programme. Apprenticeship would commence once this agreement is concluded by both parties.
Contractual agreement will be for a fixed term of 7 years

– Apprenticeship for 3 years during the programme

– Full time employment for 4 years post successful completion of the programme

Post-successful completion of the B.Sc. (Hons.) Decision Science programme, graduates will begin their career as a Trainee Decision Scientist.
Course Structure
Course Highlights
1. 4 year Hons Degree with 8 semesters
2. Intense internship (50% of course duration allocated for internship)
3. Just in time skill development as per the Job Description for following Internship period.
4. Job offer in Mu sigma subject to performance
Semester – 1,2,4, and 6 will be at RVU
Semester -3, 5,7 and 8 will be at Mu sigma (internship)
Every semester is 14 weeks and 2 weeks for examinations.
click here to view the course structure
Admission Requirements, Important Dates and Compensation Track
RVU does not discriminate based on ethnicity, colour, religion, sex, disability, age, or any factors other than academic matters. The University considers the past academic performance/ merit and equity as the guiding principles for admission in the various programmes of the University.
Indian & International Students

Eligibility
10+2 or equivalent (CBSE, ISC, IB, Cambridge, State Boards and other Govt. recognized boards) with minimum aggregate marks of 60% in Science stream

GCE/IGCSE/GCSE examinations of the approved British Examination Bodies, with Minimum 5 (Five) subjects in A, B, C Grades including English at ORDINARY ("O") Level and 2/3 subjects at ADVANCED ("A") LEVEL has been equated with +2 stage qualification.

International Baccalaureate Diploma Courses – Candidates should secure 24 points with a minimum of three subjects at Higher Level (HL) and three subjects at Standard Level (SL).


Selection Criteria
Aptitude test and personal interview
How To Apply
Stage 1 : Application Procedure

Step 1 – Registration of credentials in the Apply Now page of RVU

Step 2 – Verification of email 

Step 3 – Filling in the application form

Step 4 – Payment of application fee

Step 5 – Submission of application form
Stage 2 : Selection Procedure

Step 1 – Issuance of admit card for Mu Sigma Aptitude test – Via mail

Step 2 – Mu Sigma Aptitude test – Online Test

Step 3 – Issuance of call letter for interview – Via mail 

Step 5 – Issuance of selection letter within 48 hours to block the seat – Via mail

Step 6 – Payment of registration fee of Rs 25,000 to block the seat by the candidate

Step 7 – Balance fee payment as per the offer letter
Deep Dive into Computing
Students who are considering the program are encouraged to explore and experience Deep Dive into computing, especially those who have not had a chance to explore computing in their high school and higher secondary school. Also many of the students who have not taken mathematics in their higher secondary, will benefit from the Deep Dive in Computing. The bridge course will address the gaps if any in the prerequisites.
RV University has organized an open ended Deep Dive into Computing course. The course will be conducted in two modes.
a) Classroom mode.
b) Online Mode.
Students who are intending to study BSc Honors in Computer Science and Data Science at RVU are invited to attend the camp in one of the modes.
Eligibility: All students who have applied to the BSc Honors program at RVU can attend the camp.
Timings:
Introduction to Computational Thinking : 3 pm to 4 pm (Offline),
Mathematical Foundations: 2 pm to 3 pm (Offline),
Online timings will be announced during registration.
Course Details:
Introduction to Computational Thinking.
The course will be taught using very simple basic programs using python to demonstrate the concepts of Pattern Identification, Procedural Thinking, Abstraction and Decomposition. Student are not expected to have any prerequisites in computing
Mathematics for Computing Studies.
In this course the students will be introduced to solving problems using the following concepts.-
Number Theory – Counting, Permutations and Combinations
Algebra – Simultaneous Linear Equations.
Coordinate Geometry – Equation of Line
Matrices – Matrix addition, Transpose, multiplication.
Sets – Venn diagram and problems.
Functions – constant, linear, quadratic, Asymptotic functions
Series – Arithmetic Progression, Geometric Progression
For registration and inquiry about 'deep dive into computing', kindly contact: 6363132938