Overview
The School of Law (SoL) is born out of a desire to provide quality legal education in India. It joins the existing five schools of RVU dealing with liberal arts and sciences, design, economics, business and computer science and engineering. Our students will be in a unique position to explore intersections between law and other disciplines such as business, economics, social sciences, technology and public policy. This intersectional approach will help the students look at law with a broader lens.
Why choose our School of Law?
8 decades legacy of RV Educational Institutions for academic excellence
Six inter-disciplinary Schools promoting holistic learning
Excellent curriculum; an impressive range of electives, besides core law courses
Highly qualified faculty – blend of academics and industry practitioners
Innovative pedagogy enabling students to be ready for global careers
Student-first approach; student involvement in research starting from UG level
Merit scholarships for deserving students
Located in Bengaluru – the seat of Karnataka High Court; home to many top corporate law firms; start-up capital of India and innovation hub.
Collaborations and partnerships
Programmes
The School of Law offers two undergraduate programs: B.A. LL.B. and B.B.A. LL.B. We also offer a postgraduate program: LL.M. All the programs are compliant with the BCI Rules of Education. In collaboration with other schools at RVU, our students will also have access to various interdisciplinary courses, which will give them varied perspectives to analyse legal issues, thus building on their critical analysis skills. The students will also have the opportunity to be a part of research centres and, student clubs and societies.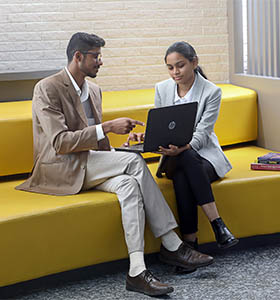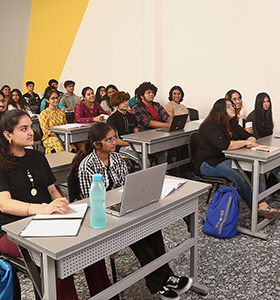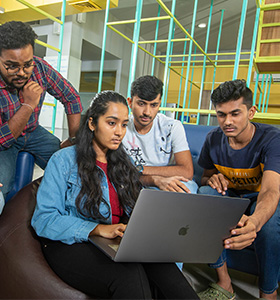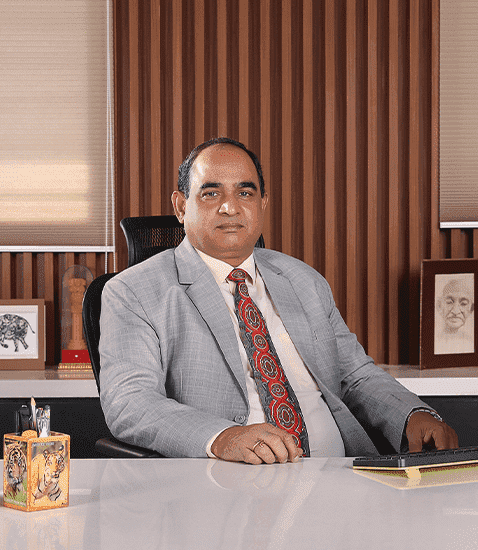 Dean's Message
The RV University is pleased to start the School of Law which will commence UG and PG degree programmes from August 2023.
Looking back at my own journey, I started as a founding faculty member in the Jindal Global Law School (JGLS), O.P. Jindal Global University (JGU). It started with nearly 100 students and 10 faculty members in 2009. I have directed the Centre for Human Rights Studies in JGU for 11 years until July 2020, besides serving as the Registrar of JGU for nine years. Today, JGLS is among the top 70 Law Schools in the world, a truly extraordinary achievement.
The School of Law at RV University wishes to strive for academic and research excellence. We have already forged many collaborations with national and international partners. In the coming years, we will create many more interesting learning opportunities for our students. We have highly qualified and committed faculty members on board, who are the backbone of our institution.
Bengaluru is regarded as the Silicon Valley of India and the start-up capital of India, besides being a hub of innovation. Many top world class companies have either established their R&D labs or have a big presence here. The city is known for its strengths in IT, E-commerce, aerospace, defence, automobiles and pharmaceuticals. It is a vibrant city with many interesting opportunities for growth. The excellent business environment augurs well for the prospective students of law.
I appeal to all students to make full use of various opportunities provided by our School of Law, RV University. Come explore, engage, excel and go, change the world.
Welcome to the School of Law at RVU.
Dr. Y.S.R. Murthy
Teaching Faculty
Board of Studies
Testimonials

Mr. Justice M. N. Venkatachaliah, Former Chief Justice of India.
The motto of the University 'Go, Change the World' is an inspiring exhortation reminiscent of the call of that great morning star of the Indian spiritual renaissance, Swami Vivekananda… I convey my good wishes to the new university for its great creative future."

Mr. Justice S. Rajendra Babu, Former Chief Justice of India.
Education must evolve a student to have information, knowledge, wisdom and values of life to become a complete human being… I am sure RV University will set very high standards in education as a process of living and not mere preparation for future living.

Mr. Justice Rohinton F. Nariman while serving as a Judge, Supreme Court of India.
Many congratulations on the founding of RV University. I am certain that in the years to come, the University will become an institution of excellence in various fields and aid in imparting education with a transformative vision. Good wishes to the founding administration!

Mr. K. K. Venugopal while serving as the Attorney General for India.
I have no doubt that RV University, guided by the vision of its founding Vice Chancellor, Dr. YSR Murthy, will play an important role in effecting social change. I wish RV University a successful future and hope that it will quickly become a world-class University recognized globally as an institution for academic and research excellence.

Dr. Justice Vineet Kothari while serving as a Judge, High Court of Gujarat.
RV University will provide education in all spheres of knowledge including Arts, Humanities, Sciences, Health, Law, Technology & Management. The motto "Go, change the world" indicates that the said institution will have a novel and out of the box curriculum to prepare great professionals from these fields of Education, who will serve the Nation and even on international horizons.
Mr. Apurba Kumar Sharma, Senior Advocate, Chairman, (E.C.) Bar Council of India
India needs a thorough revamping and modernization of its education system in order to address many contemporary challenges. Universities with a strong commitment to research and academic excellence alone can inculcate critical thinking and a spirit of inquiry among our students. In this context, new Universities like the R.V. University with their ambitious vision and mission offer a hope for a better future.

Prof. (Dr.) R. Venakata Rao, Chairperson, Vivekananda School of Law & Legal Studies
An Institution with excellent credentials that RV is, I may humbly state that the two alphabets 'RV' stands for 'Renaissance' and 'Versatility'. – Prof. (Dr.) R. Venakata Rao, Chairperson, Vivekananda School of Law & Legal Studies (VSLLS) & Vivekananda School of English Studies (VSES); Former Vice-Chancellor, National Law School of India University, Bangalore.

Prof. (Dr.) C. Raj Kumar Founding Vice Chancellor, O.P. Jindal Global University
Dr. Y.S.R. Murthy has played an integral role in the evolution of JGU to become a globally recognized world-class institution today, and I am sure that with his vision RVU will establish and demonstrate institutional excellence and achieve great heights of success in research, diversity, international collaborations, inter-disciplinary studies, sustainability, social commitment and community engagement, and lead and shape debates on important national and global issues, helping build a better and more sustainable world. As both JGU and RVU have identical goals of nation-building through education, we would like to extend our full support and guidance to RVU and hope that the two Universities can collaborate for various academic and non- academic programmes in the future.

Prof. Srikrishna Deva Rao, Vice Chancellor, National Law University, Delhi
I am sure that RV University will offer learning opportunities to students with high-quality teaching, research and community engagement… Given the history of other RV Educational Institutions, I have no doubt that the University will very soon be among the top universities in India and will engage in cutting-edge research and policy activities apart from imparting quality Education.

Prof. (Dr.) Ranbir Singh Former and Founder Vice-Chancellor of National Law University, Delhi
While there had been many positive improvements in the higher education sector in India in the last one decade, we still have a long way to traverse to realize our full potential. Any new initiative like the RV University, which is strongly committed to promoting academic excellence, comes as a much-needed whiff of fresh air.

Dr. Upendra Baxi, Emeritus Professor of Law, University of Warwick and Delhi
I am pleased to greet and join all of you in this celebration of the family of RV (Rashtriya Shikshana Samiti) educational institutions on this Foundation Day of RV University. I call it a family and not an empire of education because this network of educational institutions is a veritable Gurukul, imbued with a spirit of social and cultural service spread across primary to tertiary education, from schools to doctoral studies programme, with alumni spanning the globe.
Talk to an Advisor
Have an enquiry or need more information?
Our team is here to address and answer all your questions.